e-Transport and e-Mobility are two of the hottest topics in the automotive industry today.
To discover the business and investment opportunities in this field in Thailand, the Paris and Frankfurt offices of the Thailand Board of Investment (BOI) organise a webinar on 16th Nov 2022 from 10am to 11.30am (CET) during which our automotive and e-mobility's expert is invited to speak about the key factors for a successful transition from conventional to Electric Vehicles.
This webinar is the opportunity for european companies to get insights into the thai EV market, discover business and investment opportunities, and exchange with technical and local experts.
Among the speakers :
The Electrical Vehicle Association of Thailand, the B.O.I., CETIM (the French Technical Center for Mechanical Industry), PTT and the testimonial of BMW.
The full program :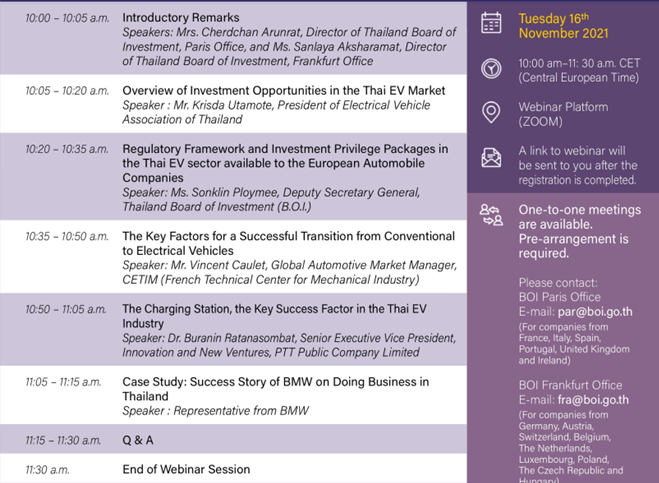 To register please click here !
(subscription is free but mandatory)
Learn more on Cetim expertise :
Discover our e-mobility platform in video
Get in touch with our experts : sqr@cetim.fr / +33 970 821 680